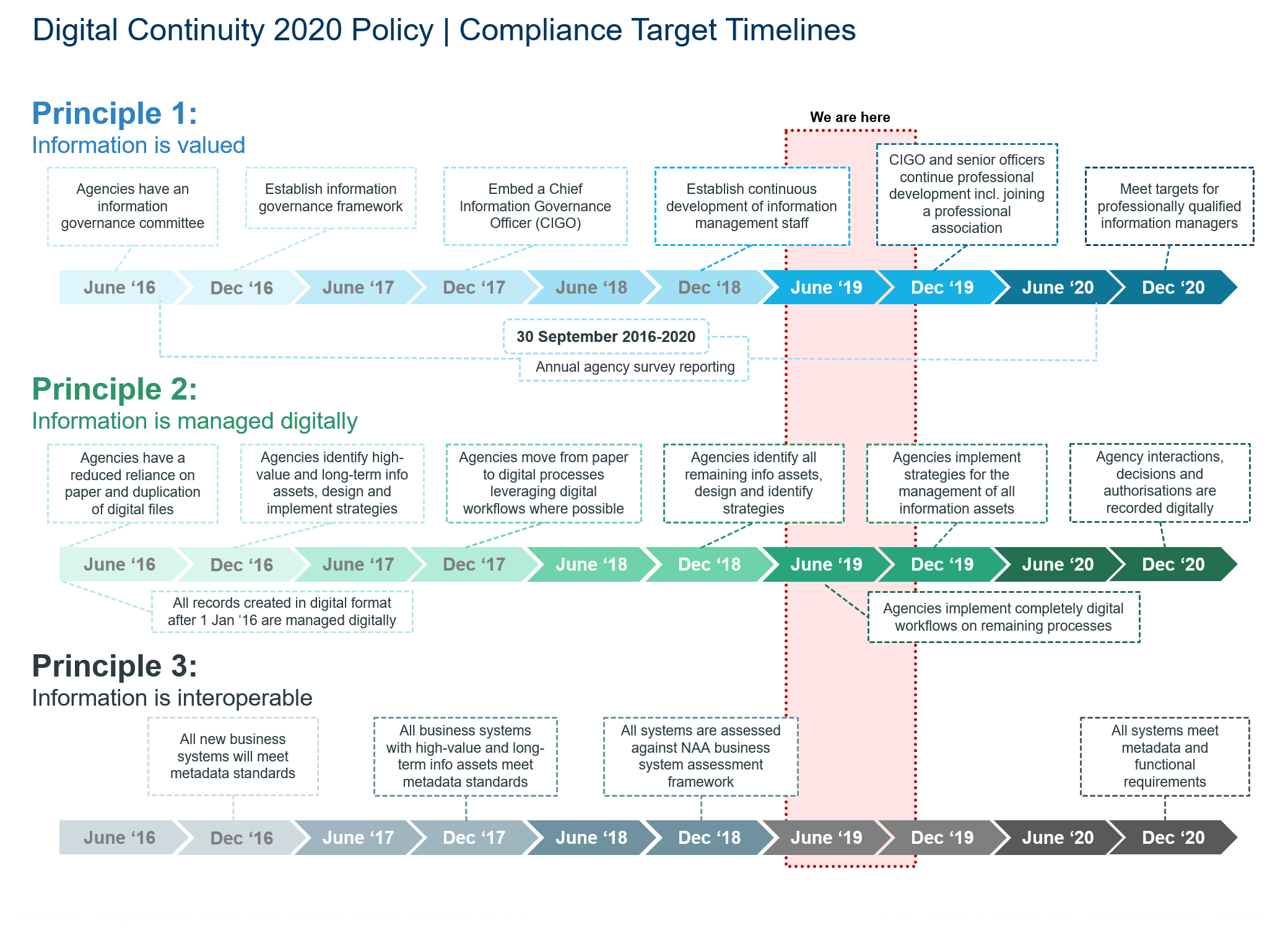 23 Jul

NAA Digital Continuity Policy

Key points:
The National Archives of Australia Digital Continuity 2020 Policy requires all agencies to meet a number of targets between 2015 and 2020
73% of these targets should have already been met including:

Implementation of a Chief Information Governance Officer
Agencies have defined strategies for managing all information assets and where possible moved to digital workflows
All systems have been assessed using the NAA Business System Assessment Framework

The policy is underpinned by three principles: information is valued, information is managed digitally, and information is interoperable
The National Archives of Australia (NAA) released the Digital Continuity 2020 Policy in October 2015 but many Commonwealth agencies have not taken serious consideration of what this really means and what is required of them.
The Digital Continuity 2020 Policy plays a key role in supporting the Australian Government's digital transformation initiatives and driving e-government. Agencies that understand and fully realise the benefits of their assets – information, technology, people and processes – will deliver better and more efficient services to Australians.[1]

Under the Archives Act 1983, the NAA has the authority to issue standards for Commonwealth records including archival and preservation requirements. All non-corporate and corporate Commonwealth entities, and wholly owned companies including government business enterprises are subject to the policy. The NAA is required to respond annually to government on adoption and compliance of the policy.

The Digital Continuity 2020 Policy states[2]:
Underpinned by three principals, the NAA and Digital Continuity 2020 identifies a set of targets and dates of when to achieve them by, that will demonstrate compliance with the policy.
The figure below depicts the targets required for Commonwealth agencies to achieve and by which date. It is clear that a significant amount of work is already expected to be completed with a number of additional targets still expected to be achieved prior to December 2020.

Time to act
With significant work to do and a number of key target milestones already passing, it is critical that actions are taken now to ensure end-to-end compliance with the policy by 2020.
Recently, at BellchambersBarrett we worked with a client to demonstrate compliance with Principle 3, up to the December 2018 target. We assessed their core systems against the NAA Business Assessment Framework and worked together to identify any functional requirements and solutions necessary to meet the standard.
In short:
If you would like to learn more about what is required under the policy or want to discuss how we might be able to help you meet your obligations, please reach out to:
Sebastian Wojtkiewicz | Company Director
swojtkiewicz@bellchambersbarrett.com.au
Dave Crowe | Senior Manager
dcrowe@bellchambersbarrett.com.au
Or contact us on 02 6239 5011

---
[1] http://www.naa.gov.au/information-management/digital-transition-and-digital-continuity/digital-continuity-2020/index.aspx
[2] http://www.naa.gov.au/information-management/digital-transition-and-digital-continuity/digital-continuity-2020/index.aspx