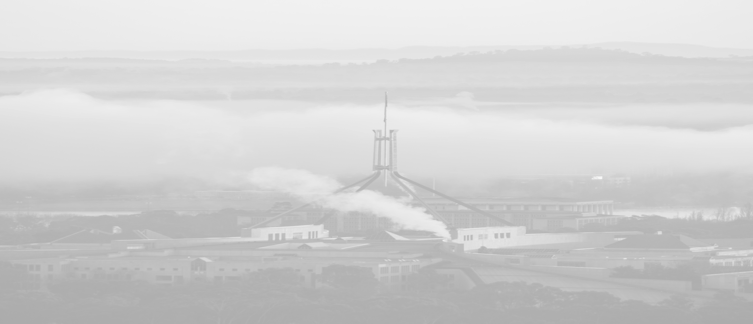 19 May

Machinery of Government

So, with the federal election almost upon us (this Saturday the 18th of May just in case you missed it!), Australia may well have a new government in power. And with a new government typically come changes to the functions of agencies and the allocation of financial resources and people. In some instances, the changes may seem warranted reflecting government priorities. Sometimes though, the changes can appear somewhat arbitrary leaving many of us wondering why agencies/functions recently moved, are being moved again. In either case, there are a range of things that need to be considered in order for the changes to occur quickly and with as few problems as possible.

Before we talk about the planning and processes necessary to effect the changes, it might be of interest to get a sense of the volume of changes that have occurred over the past decade or so. To illustrate, and only referring to the changes identified in the Administrative Arrangements Orders (AAO), we have conducted an analysis of the changes that have occurred using the 21 September 2006 AAO as the start point. Since then the following can be observed:
Some 551 changes have occurred including agency creations, amalgamations, disbandments and functional transfers.
Department of Industry, Innovation and Science has been the most affected with 159 changes
Department of Defence is the least affected with no changes.
Other agency changes not specifically identified in the AAO and minor changes like function re-naming, have not been counted.
Changes to individual agencies as per the AAO are summarised in the following table.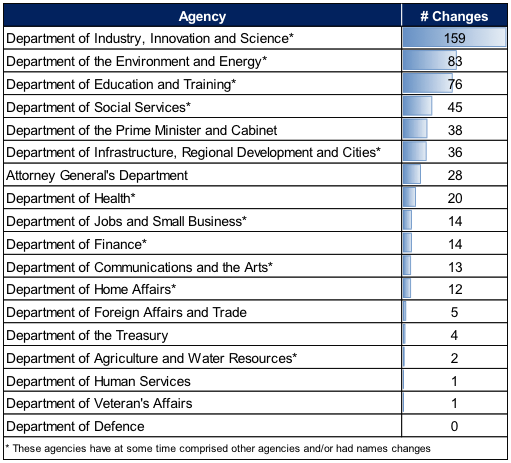 The number of changes in the table above does not show the net effect of functions transferring in and out as this would understate the actual amount of work needed in support of both transfers.
Perhaps more interesting is the change experienced after federal elections have occurred. Overlaying the agency change data with the past four federal elections illustrates just how susceptible certain agencies are to change following the election of a new government.
Incidentally, it doesn't mean that the years between federal elections are devoid of any changes. As the next table demonstrates, there are frequent ongoing changes to agencies and functions as government re-assesses Commonwealth responsibilities and delivery models, and new legislation is introduced or amended.
Knowing all this, it is reasonable to expect that come 18 May there will again be a reshuffling of the deck. It's anyone's guess how agencies will be restructured but we know from experience, that there are likely to be significant changes. So what can agencies do to be prepared? You probably won't be stressing too much if you run Defence; but if you head up one of the agencies that have a history of being impacted, then it is probably a good idea to start some initial planning.
The Australian Public Service Commission (APSC) perhaps thinks a change is on the horizon and recently published their April 2019 MoG agency guide. This should be the start point for any agency who thinks they will be impacted. The guide is comprehensive and provides useful information that will need to be considered and applied as appropriate. The APSC guide states:
It is good practice for agencies to start planning as early as possible.
As soon as it becomes clear that a MoG change will occur, affected agencies are expected to: –consider the appointment of an independent third party to facilitate and advise on the process –establish a cross-agency steering committee to oversee implementation –prepare for an immediate and thorough due diligence exercise, and –develop a communications strategy to keep staff informed
The extent of these actions will depend on the size and complexity of the MoG change.
Government expects the changes to be made quickly and smoothly and generally within 13 weeks of the date of effect of the MoG change.
A detailed project plan will be critical to achieving MoG requirements within the required timeframe and it should be developed ASAP. This important tool will assist with identifying what needs to be done, when and by whom and any task dependencies. It will also assist the management of MoG delivery risks, and will be a critical document for agency steering committees, other agencies (stakeholders) involved, assurance activities (internal and external) and post MoG reviews.
And don't forget that while it is important to ensure the financial elements are correctly accounted for and transferred, it is also crucial to understand the impact on individuals and teams – their roles, responsibilities, the way they work and where they work. Different agency cultures must also be considered as part of any individual or function transfers, as an increasing number of contemporary studies are able to demonstrate a link between unsuccessful integrations and cultural fit.
If you think you might need assistance either planning, implementing or reviewing your MoG, we have experienced people who can provide advice and support.